Parents Portal
Families and Educators Together
Parents and families play a key role in ensuring educational success for their children.  It is our goal to support our parents as partners, to acknowledge they know their child best and to work together to have a positive impact on student well-being and achievement. 
2022-2023 Parent's Handbook
Welcome to the Gwa'sala-'Nakwaxda'xw School. I am honoured to be your Principal and to work for the Gwa'sala-'Nakwaxda'xw Nations.
Our student expectations remain centered around the traditional values of Maya'xala and will help us to continue to help provide a safe and relationally rich atmosphere and to promote respect and responsibility in order to create a conducive learning environment.
We are so fortunate to have a strong team of teachers and staff members. Our staff will continue to have high expectations for student success while balancing that with the emotional, social, academic, and physical needs of all students. Parents and community members play a vital role in the education of their children. When parents, elders, and other community members are engaged and involved, everyone – students, parents, families, teachers, schools, and communities benefit. Together, as partners in our student's education, we can help our children learn and grow as individuals and strong members of the community.
We hope you partner with us in the learning with us in the learning process. Please take a few minutes to read through our parent handbook and familiarize yourself with the important school information.
Please use this document as a point of reference throughout the school year. As always, if you have any further questions, feel free to call us or to come to the school.
The Gwa'sala-'Nakwaxda'xw School – Parents Club

Strong Together In All We Do
Parents' Club invites you to become involved in supporting the children and youth of our community. The Club's focus is to acknowledge and support the key role of parents in ensuring educational success for their children. Please feel free to stop by and talk with us any time. We appreciate your encouragement, want to hear your concerns, and just like to see you too. With this kind of team work, and open and honest discussion, we can create a positive learning environment to allow each child to reach his or her potential. Join our Facebook group here.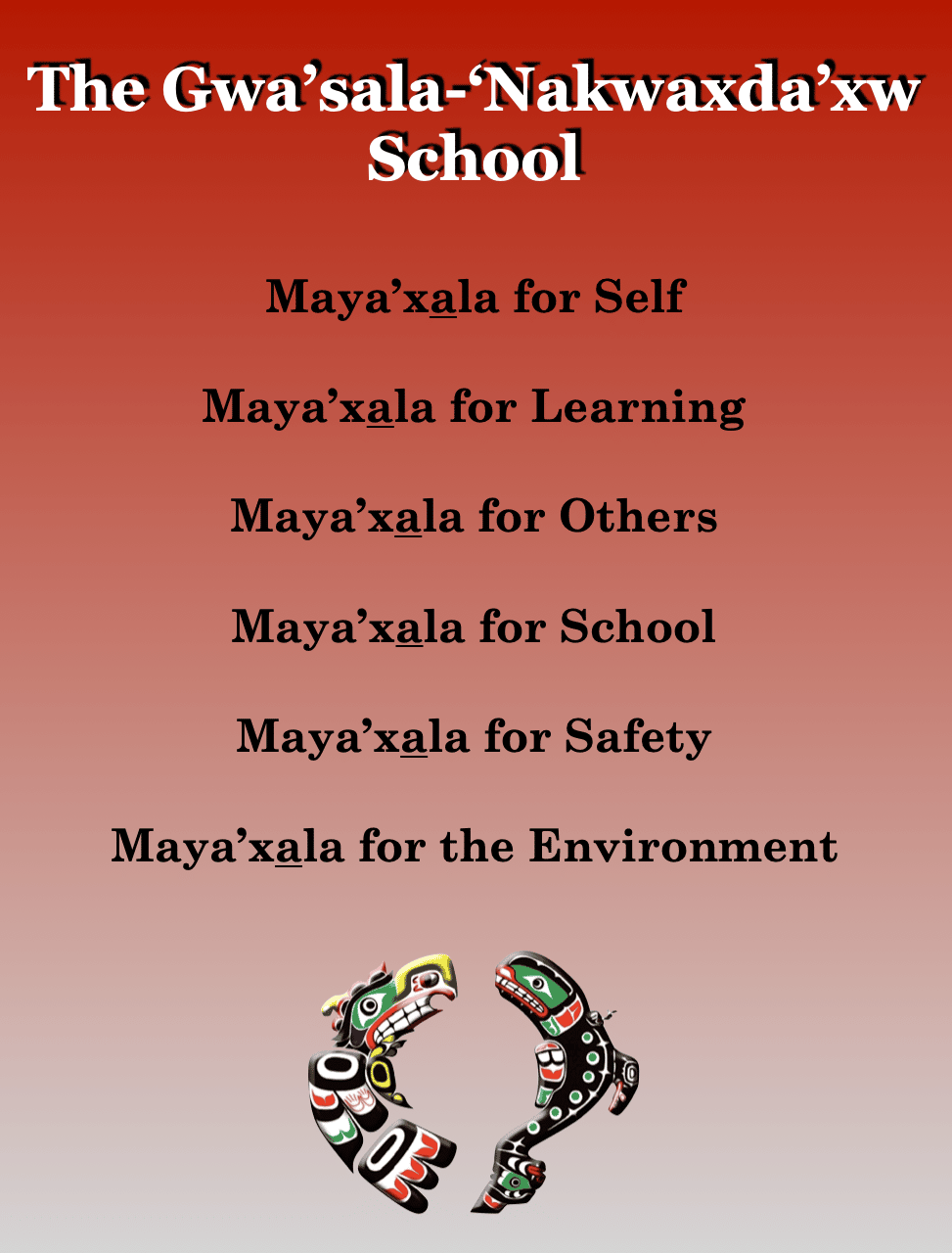 Location
182 Ba'as Rd, Tsulquate Reserve, Port Hardy, BC V0N 2P0
Phone & Email
(250) 949-7743
manager@gwanak.bc.ca
Get In Touch
Location: 182 Ba'as Rd, Tsulquate Reserve, Port Hardy, BC V0N 2P0
Contact US: PO Box 1799
Telephone: (250) 949-7743
Email:  manager@gwanak.bc.ca
School Hours: Mon-Fri – 8 am to 4 pm